Arias is "all in" with Colorado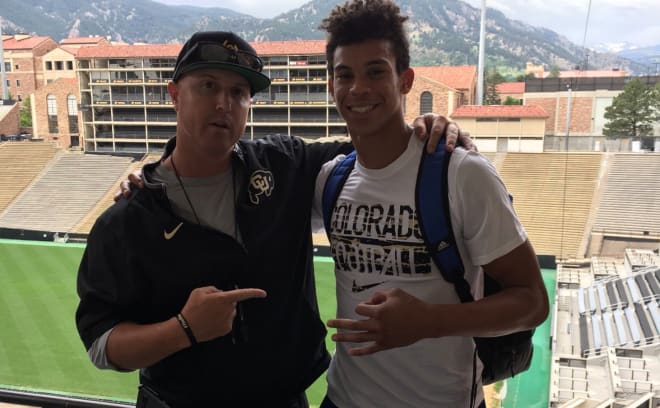 The Colorado coaching staff was recruiting several notable wide receiver recruits, and we were told by sources that Daniel Arias was on a very short list of receiver prospects that Colorado wanted to commit.
Fireworks went off on July 3. Arias committed to Colorado over Utah, who was CU's bigger contender, as well as Oregon State, San Diego State, Boise State, and Connecticut.
"I decided to commit to Colorado because I felt it was the best fit for me, not just from an athletic standpoint but an academic standpoint as well," Arias told CUSportsNation.com.
Two of Colorado's coaches were important in leading Arias to commit to the Buffaloes.
*TIMELINE: Arias commits to Colorado
One was Darrin Chiaverini, which is obvious. Arias and Chiaverini have grown very close over the past couple of months, and Arias is excited about playing for his future position coach.
The other coach is Chidera Uzo-Diribe, who is tied for 6th at Colorado for career quarterback sacks and graduated from CU in 2014. Uzo-Diribe currently serves as a graduate assistant at CU.
"Coach Chev and Coach Chi played a huge role," Arias explained. "My relationship with them was the icing on the cake for my commitment. They have been on me and with me for a long time, and I know they will turn me into the he player and man I want to be."
Arias doesn't plan to have a wishy-washy recruitment. He's very solidly committed to the CU Buffaloes.
"I am all in on Colorado and only plan on taking one visit and that's to CU," said Arias.