Colorado lands big WR commitment from Daniel Arias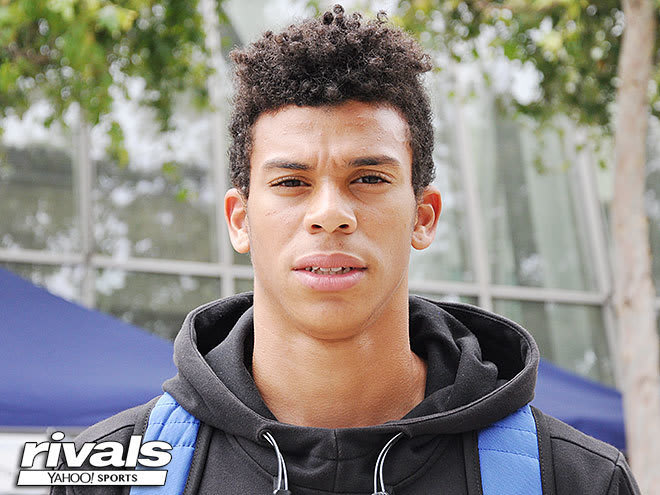 The wait is over. The search is shut down.
Colorado has found the big outside receiver target that they've been looking for. Mill Creek (Wash.) Jackson wide receiver Daniel Arias announced on Monday that he's committing to the University of Colorado.
Arias named a top six of Colorado, Utah, San Diego State, Boise State, Oregon State, and Connecticut last week, but today, he just has a top one of Colorado.
Arias, a 6-foot-4, 190-pound prospect, visited Colorado a couple of weeks ago and hit it off with his future position coach Darrin Chiaverini. Arias already had high interest in CU before the visit, but seeing Boulder in person and bonding with the staff put the Buffs over the top.
As mentioned, Colorado has been looking for a tall wide receiver for the 2018 class that specializes in vertical routes on the outside. Arias runs very smooth routes, is a long strider, and is a very natural pass catcher.
Arias caught 49 passes for 1,030 yards and 12 touchdowns as a junior.
Click here to comment on this story with fellow Buffs' fans!
Timeline of Arias' recruitment
(All dates are 2017)
Feb 7 - Arias lands first offer from Montana State
Feb 15 - Arias receives Oregon State offer - 1st Pac-12 offer and 2nd overall offer
March 18 - Arias visits Oregon State for their spring game, and they look to be the favorite
April 3 - Arias visits UCLA
April 5 - Arias visits Washington State
April 26 - Arias visits Oregon
May 8 - Arias tweets that he'll be visiting Colorado on June 22 and lands CU offer (8th D1 offer, 2nd Pac-12 offer)
June 3 - Arias lands Boise State offer (14th D1 offer)
June 5 - Arias picks up Utah offer (15th D1 offer, 3rd Pac-12 offer)
June 19 - Arias visits Utah
June 22 - Arias visits Colorado
June 25 - Arias wins WR MVP at USC camp
June 26 - Arias names top six (Colorado, Oregon State, Boise State, SDSU, UCONN, Utah)
June 28 - Arias lands Michigan State offer
July 3 - Arias commits to Colorado