Stenstrom bonds with fellow commits during official visit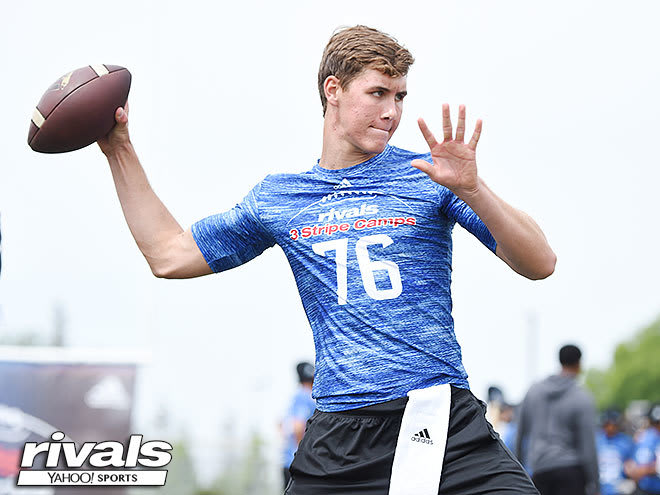 Not yet a subscriber? Click here to sign up now!
Highlands Ranch (Colo.) Valor Christian quarterback and longtime Colorado commit Blake Stenstrom took his official visit to CU this past weekend. He was one of many Buff commits that were in Boulder for the weekend.
"It was awesome. We had nine other commits there, and that was great," Stenstrom said. "I got to hang out with all of the guys. We're going to be pretty good buddies when we get there. We were able to meet the current players and hang around Boulder. It was a great time."
Stenstrom had met some of his fellow commits previously, but the weekend served allowed the group to get to know each other better.
"I met Dimitri [Stanley] at some games and obviously when we play each other. I met Daniel [Arias] and Jarek [Broussard] at the Colorado camp over the summer, but I hadn't really hung out with them much," said Stenstrom. "It was great to hang with them. They're hilarious and funny. It's going to be fun."
RELATED: Arias makes his final decision | Colorado Recruiting News: Two new commits
The lone uncommitted prospect that was in Boulder was four-star offensive guard Chris Murray, who arrived in Boulder on Saturday.
"I got to hang out with him a little," Stenstrom said of Murray. "He was cool. He and Clyde Moore know each other a little bit -- they're from the same area. I hung out with them for a bit Saturday night. I'm really hoping we can get him up there."
Stenstrom was able to have a sit down meeting with his future head coach Mike MacIntyre.
"On Saturday, we all went to positional meetings and watched film," Stenstrom said. "I watched film with coach Mac since obviously coach Lindgren left and they're trying to find a new QB coach. We sat down and went over some things.
"It was cool to see the concepts they run. They're great. They're pro-style concepts but they run it in a way that they can run it in hurry-up. Once I get the names and signals all down, I'll be able to handle the offense real well. I've done all of these things before and I can recognize defenses."
Stenstrom has been solid with his CU commitment since he made his initial verbal commitment 12 months ago.
"I was really encouraged by the whole visit. I'm going to sign on December 20," he said.