Walker blessed to be a Buff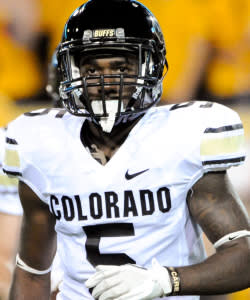 Walker was used to a different way of life. Growing up in one of the nation's most crime-ridden cities, he was used to looking over his shoulder every time he walked down the street.
"When people think about my hometown of Washington D.C., they think about the White House and the downtown area, and no one sees what happens across the bridge," said Walker, now a redshirt junior defensive back on Colorado's football team.
"Where I come from, if you have the new Jordans on, someone might try to kill you and you won't make it back home," he added. "There have been 105 murders in D.C. this year, it is crazy man. I heard they are thinking about bringing out the National Guard."
It is a minor miracle that Walker avoided the daily temptation to join the "street life," especially given that his father is imprisoned for life. His brothers, and other relatives, are also behind bars.
"All the males in my family are either locked up or dead," Walker said. "I wouldn't be here if it wasn't for my mom (Jamilah Walker). My mom was dating a lot of street dudes after they all went to jail but she ended up being the first one in our family to go to college and graduate. And now she is back in college to get her BSN in Nursing. I just want to make my mom proud. I just want to be the positive male for her."
Walker is also trying to be a positive influence for his brothers, who will have an opportunity to turn their lives around when they are released from prison.
"Even though they are in jail, I try to talk to them every day," Walker said. "When you are in jail, that could be the turning point of your life, or you could keep going down the wrong path and spend the rest of your life in jail. I am trying to keep them focused and let them know what I am doing so when they come back home, they won't make the same mistakes."
Walker attained a perfect 4.0 grade point average in his final three quarters at H.D. Woodson and was the school's salutatorian in 2012. He was active in his community and at his church, and won a sportsmanship award through the Boys & Girls Club.
One might think the transition to college would have been easy for Walker, who had his priorities in line during high school. But life as a student-athlete in Boulder was difficult for him at first. During Walker's first year at CU, he thought long and hard about leaving.
"I just didn't think college was for me with the people, the schedule, all the stuff going on back home," Walker said. "I had to change my mindset and have a positive mindset. I started to be open to meeting new people and was open to trying new things. I am glad I came out here because it changed my life, the way I look at life, everything."
Walker has appeared in 24 games so far during his college career. Although he stands just 5-foot-9, 180-pounds, Walker is one of the Buffaloes' most physical players. As the famous Mark Twain saying goes, it is not the size of the dog but the size of the fight in the dog.
"I take that saying to heart. A lot of people underestimate me, they think I am a small type of guy that won't bring much force. I like that, though, ever since high school I like surprising people with my aggressiveness," Walker said. "You have to be aggressive in D.C. so I just use my aggressiveness in a positive way out on the football field, and not in the streets."
"I think it was my first time actually playing corner when it mattered in a game," Walker said. "I was just waiting for my number to be called and it got called. I honestly had some goosebumps when they called me out there but I am confident in myself and after that first play, it was just like practice. I can be a hybrid type of guy, I can play nickel or corner."
Walker is listed No. 2 on the depth chart at both nickel back and cornerback this week. He is anxious to have his number called again.
Academically, Walker is on pace to earn a degree in May with a major in Sociology and a minor in Ethnic Studies. He still has another year of eligibility left in football, so he will further his education by entering into a graduate program this summer.
"If I was back home, I don't know what I would be doing," Walker said. "I am blessed to be here."