Tuiloma overcame adversity to realize dream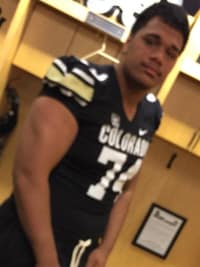 Tuiloma will be the first football player from Nanakuli High School to sign with an FBS program in more than a decade. He welcomes the attention that comes with that accomplishment.
"This is something that is really special for my community," Tuiloma expressed. "I want kids here to see what I have accomplished and go, 'Lyle did it, so I can do it.' I want the bar to be set higher for my community because I love my community."
Located 30 miles northwest of Honolulu on the Hawaiian island of Oahu, Nanakuli is not an area often frequented by college recruiters. Tuiloma believes that is due to its reputation.
"A lot of talented football players come from my community but our community is stereotyped," he said. "I've heard people say, 'we shouldn't go into Nanakuli because if you say something wrong, you are going to get beat up.' We don't do that here. We have a loving community."
The Nanakuli community will help Tuiloma celebrate after he returns home on Wednesday. He is set to make his commitment to the Buffaloes official in Waikiki at 7 am (HAST) during a signing day ceremony put on by the Pacific Islands Athletic Alliance (PIAA).
Tuiloma never had much growing up. And in 2005, when he was in fourth grade, he was without a home. His parents lost their home because of drug addiction.
"I ended up being homeless with my two brothers," Tuiloma said. "My sister (Chantel) had just graduated from high school and she was living in a studio apartment with her husband now (Alika). They took us in, they took care of us. They became our guardians."
It was not the first or last time his sister came to the rescue.
"Practically our whole lives, even before that happened, my sister always managed to take care of us because my parents weren't on the right path," Tuiloma said. "My sister is my hero. She has raised us and told us ever since we were little kids that she believes in us and we are going to be somebody and get off the Islands and succeed. My sister and brother-in-law have been really good role models to me and my brothers."
It would be easy for Tuiloma to hold resentment toward his parents. But he believes they simply got sucked into the drug culture in the late 1980s, long before he was born, and simply couldn't escape it.
"I don't blame them," Tuiloma said. "I learned to use [my upbringing] as motivation. Even in football, I am very humble and work hard. Every time I step on the field, I tell myself that I am going to be someone and go somewhere."
Tuiloma most likely would not have been presented with an opportunity to play FBS football if he hadn't attended the PIAA Maximum Exposure camp last June. And he wouldn't have been able to participate in the camp without help from his family.
"I didn't go to any other camps because I didn't have the money to. But my family stepped up for me to go to the one camp and I was very motivated," Tuiloma recalled. "I went into the camp with a chip on my shoulder. I am usually humble but I knew that I needed to show out at this camp because I wanted to accomplish my dream. And I did."
"You can't miss Coach Jeffcoat. He is like 6-foot-6, 280-pounds. He is a really cool guy and I kind of caught his attention the first day of the camp," Tuiloma said. "Colorado got in touch with me after the camp and I got offered a full ride. That is how I ended up being discovered."
Tuiloma had never visited the Mainland until last Friday. He took his two-day official visit to Colorado with his sister and brother-in-law. It was an experience that exceeded his expectations.
"It was great. Colorado is beautiful," he said. "Colorado had sent me 38 reasons why I should go to Colorado because Colorado was the 38th state in the United States. That showed me the beauty of Boulder in pictures. So I kind of knew what to expect with that but experiencing the community there was just a great experience for me and my family."
"I had never seen a town that had so much spirit and support for the football team. So many locals showed support and there was a Ralphie symbol everywhere. There was always something representing the University of Colorado wherever I went. That was beautiful to see," he said.
Although Tuiloma played mostly as an offensive tackle during his senior season at Nanakuli, the Buffaloes see him fitting in as a defensive tackle, more specifically as a three-technique.
"They want me to hold up the middle of the line, stop runs and also be able to run sideline-to-sideline to chase down plays," he said.
During his visit to Colorado, Tuiloma met with a professor from the Journalism and Mass Communication School. He hopes to pursue a future in Sports Broadcasting.
"I always envisioned playing college football growing up. That was the big goal for me," Tuiloma said. "The fact that I am going to be the first one in my family to go to college, it is really a blessing."