Three-star 2020 DT Jordan Berry recaps OV to Boulder
Over this past weekend, Colorado hosted a plethora of official visitors, including three-star 2020 DT Jordan Berry, a 6-foot-3, 305-pound recruit from Harbor City, Calif.
Berry, who was committed to LSU previously from February through October of this year, was in town with recent commits Toren Pittman and Ashaad Clayton as well as target DE Jason Harris.
He breaks down how his time in Boulder went below.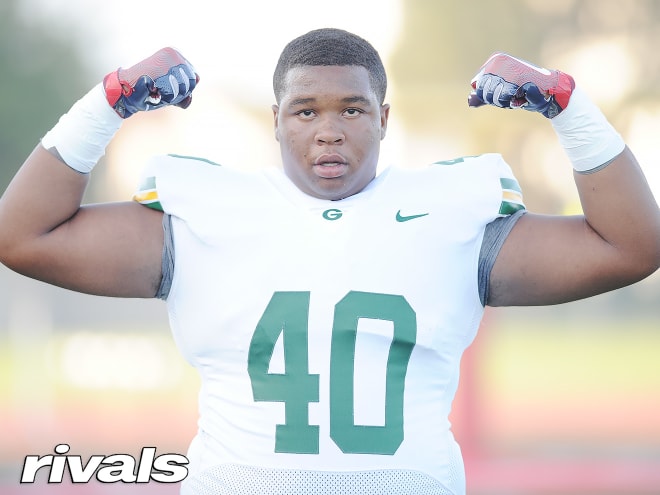 Berry flew into Boulder this past weekend with his mom and uncle to watch Colorado take on Stanford. He spent a lot of time with Mel Tucker and position coach Jimmy Brumbaugh, leaving town with the impression that CU could be the place for him.
"I like Colorado — I think it's a good fit for me, school-wise and environment-wise," he said. "(Going there) would make me grow as a man, it's going to teach me fundamentals and how to work with people. (I think) I can develop (myself) out there."
Berry had received offers from seven Pac-12 schools, including nearby Southern Cal and UCLA, while LSU, Georgia, Florida provided significant SEC interest. Boston College was also in the mix.
In particular, Berry said he was impressed with Tucker.
"Coach Tucker is a cool, cool dude," Berry said. "He said he's been recruiting me ever since he came to Colorado. I spent time with him over the weekend, me and my mom and my uncle — I felt at home with him and the whole staff. I felt loved. It felt like a bond, like I was supposed to be there."
After the Buffs wrapped up their 16-13 win on Saturday, the next day Berry was back at the Champions Center to sit down with Brumbaugh for a film study session.
Brumbaugh compared his film to that of Mustafa Johnson, Jalen Sami and Terrance Lang, among other CU d-linemen and put the microscope to what Berry needs to improve on.
"He sat me down in the film room on Sunday after (the Buffs) played Stanford and he showed me technique-(related) stuff," Berry said.
"He like that I get off the ball quick, but he tells me that I need to progress more in my hand movement, getting off the ball quicker and being more of a leader — not the one that stands in the back two or three persons behind everyone."
As Tucker has alluded to many times since taking over as head coach at Colorado, the impression you make on the parents and family members of recruits is just as, if not more, important that bonding with the player himself.
In that regard, Berry indicated that Tucker did well.
"I feel like I could call (Colorado) home for the next three or four years — I love it," Berry said. "When me and my mom and uncle got back to our (hotel) room, we sat down and we talked about it. My mom said it's a good fit for me and that it's not far like LSU (was)."
Berry said he hopes to study communication at Colorado and was impressed with how the university and athletic department works to help students succeed.
In accordance with what he discussed with Brumbaugh, Berry said he's well into getting ready to transition from high school to college football.
"I've been preparing by working out, getting faster and not getting late night snacks (laughs). My lower body strength is there but my main goal is to get more upper body strength."
As of now, four Rivals analysts have predicted Berry landing at Colorado, and based on a successful OV and reaction of he and family members to Tucker, the football program and all Boulder has to offer, CU fans should expect a decision on his part here in the next few weeks.