{{ timeAgo('2020-10-18 13:44:42 -0500') }}
basketball
Edit
Off-the-court bonds with teammates coming along well for Jeriah Horne
Graduate transfer forward Jeriah Horne, who joins the Buffaloes this season having played the last two at Tulsa, indicated after practice earlier this week that his transition to Boulder has been near seamless.
A big part of that has to do with how he'd been able to get to know his new teammates. While the Buffs continue to ramp up their organized practices, Horne's relationship with the team off the court has been solid.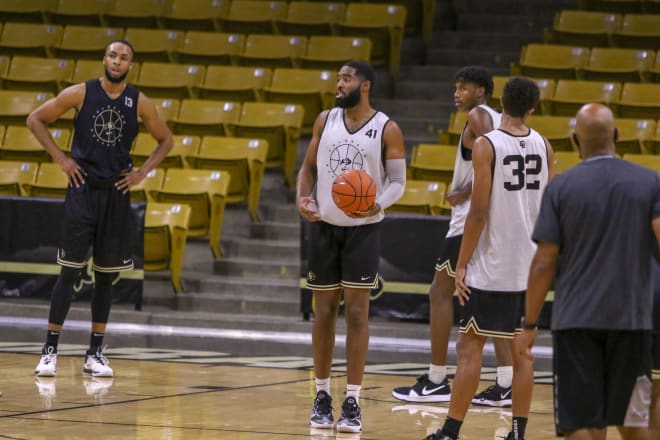 Horne, a 6-foot-7, 220-pound forward, was brought in by Tad Boyle to help the Buffs replace the presence of Tyler Bey, who forewent his senior season at CU and entered the NBA Draft.
Horne averaged 10.6 points and 5.0 rebounds per game at Tulsa — respectable numbers in a respectable conference (AAC) in two seasons played there.
The Golden Hurricane went 21-10 last season — ironically, nearly the same record that the Buffs posted (21-11) — and also in similar fashion to CU, Tulsa, which captured an AAC title last year, was primed to make the NCAA Tournament until it was cancelled on account of the COVID-19 pandemic.
Horne was the team's leading three-point shooter (56 baskets made) and also was first on Tulsa's roster with an 86% make rate from the free throw line.
Given Horne's history, the stage is set for him to be a solid helping hand to a Colorado team with big aspirations once more in 2020-2021.
While we will have to wait and see what Horne does on the floor until around Thanksgiving, when CU opens its season on the road against Kansas State, players, Boyle and Horne himself have given positive reactions when asked about the extreme latter's presence.
In particular, Horne has earned some nice reviews for how he conducts himself off the court and personality-wise.
"He's a great player, not only on the court but off the court," said senior D'Shawn Schwartz. "He's just one of those types of guys that really mesh unbelievably well. It was a seamless transition with him coming here to play with us. He brings great perimeter shooting, great post player — he's been great for us so far."
Boyle has thus far been pleased with what Horne has brought to the table in terms of leadership and his effort to get to know the players around him — on the floor but also more intimately off the court.
"Jeriah did a great job and has done a great job of meshing with our veteran players as well as our new players," Boyle said. "He's a very mature kid, he's very personable, he's a guy that is not afraid to talk and he's been a great teammate so far. The other thing about Jeriah that I found out is that he is a great talker."
"He knows how to get his shots off, he knows how to help other people get their shots off, and he's really stepped in as a grad transfer — the first one we've had — and done a terrific job from a leadership standpoint given that he is a new player himself."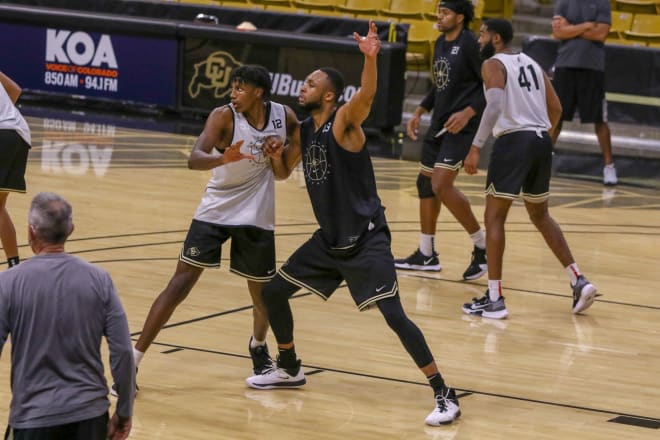 Join the conversation on Jeriah Horne and his transition from Tulsa to Colorado at Buff Nation, the premiere message board community serving countless CU fanatics.
Horne arrived in Boulder over the summer, when many of Colorado's veterans weren't in town, McKinley Wright IV included.
According to Boyle, Horne took that opportunity to get to know the Buffs' younger players, including the freshman class of Luke O'Brien, Dominique Clifford and Jabari Walker that had newly moved into their dorms.
"Jeriah has done a terrific job, this summer when he got here, of meshing with the freshmen," Boyle said. "Most of the guys that were here this summer were living either with each other or close proximity to each other. He's done a great job of building relationships and being a mentor for those freshmen."
While Horne's drive to get to know his teammates certainly is a testament to the kind of personality he has and his character in general, it also was strategic.
After all, what better way to ensure you click with your teammates during games than by knowing who they are outside of basketball?
Additionally, interpersonal relationships became an even higher priority for Horne as he watched the Pac-12 season go from uncertain to cancelled and now to back on track.
But no matter how you spin it, the Buffs' lost valuable offseason time together due to COVID restrictions.
"Because I knew we wouldn't have that much time on the court like we would in the past, I really focused on building that relationship with them off the court," Horne said. "The better our relationship was off the court, I knew that it would translate to on the court relationships, which would be even stronger. It's really going well."
With the Buffs intensifying their daily practices, Horne is confident that coming to Colorado was the right choice.
"It's been what I've expected but a whole lot more in great ways," he said. "The team, the coaches — I've built a great relationship with them and it's continuing to grow in a positive way. They welcomed me as their own and I didn't really feel like necessarily the new guy."
"I fit right in and that was something that was really big for me, making that decision to transfer from the University of Tulsa. It being my last year, I really just stepped out on faith and everything is really working out like it's supposed to."