Lewis will be joined by his brother when he departs for Colorado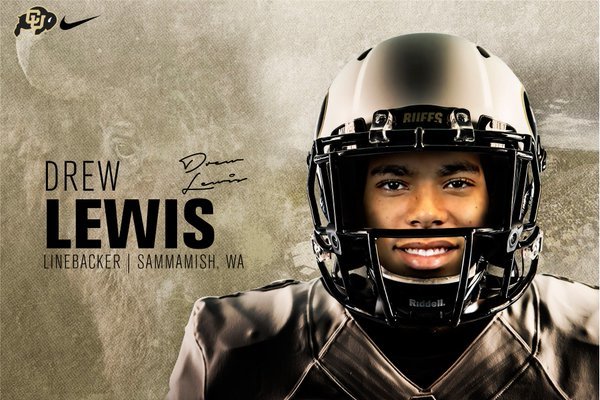 Lack of depth at inside linebacker was the primary reason the Buffaloes were not able to conduct a traditional spring game in April. So, needless to say, Drew Lewis will have a good opportunity to get on the field during his first season at Colorado this fall. He was one of four Junior College prospects to sign with the Buffs with the Class of 2016.
CU head coach Mike MacIntyre said on signing day Lewis will factor in at Jack linebacker, the inside linebacker position next to the Mike (middle) linebacker. Kenneth Olugbode is a returning starter that currently tops the depth chart at Jack linebacker.
"[Defensive coordinator and linebackers] coach [Jim] Leavitt told me as of right now I would be going in as the No. 2 so that is definitely a good place to start at," Lewis said. "Obviously I hope to play, as a special teams player and at linebacker, too."
Like his recent Coffeyville Community College teammate Juwann Winfree, Lewis is eager for his return to major college football after getting dismissed from a power conference program in 2014. A three-star prospect coming out of Eastlake High School in Washington, Lewis spent one year at Washington before playing as a redshirt freshman and recording 63 tackles in just six-and-a-half games at Coffeyville C.C. last fall.
"My biggest goal going out to Colorado is to prove to everybody that I can still play at the Pac-12 level," he said. "When you kind of fall off and have to go to a JUCO, there is a slim chance for most people to get back to the same level. But I feel pretty good going back to the Pac-12 and being able to correct what went wrong at Washington."
Lewis will be departing for Boulder on May 30 with his twin brother Troy Lewis, who has been invited to join the Buffs' program as a preferred walk-on. Drew's brother is also a redshirt sophomore. He is expected to factor in as an outside linebacker at CU.
"Troy went to Coffeyville right out of high school. The only year we've been apart is when I was at Washington," Drew said. "We were always together growing up, playing offense and defense. We were both running backs with 20 personnel so we'd be out there at the same time. It is going to be a lot of fun to be around my brother at Colorado."
Lewis played safety on defense in high school, outside linebacker at Washington and middle linebacker at Coffeyville. The Jack position will be new to him but the versatility he gained while playing at those other spots on defense should suit him well in the role.
"Drew is a rangy linebacker," MacIntyre said. "At Jack linebacker, we can walk him up inside, and he can rush inside or outside. He's 6-foot-3, 230-pounds and runs a 4.6."
Added Lewis: "It will be a new position but I feel I will adapt well. I have already been going over the film and playbook and I've been trying to understand the entire defense. I am ready to get the ball rolling and see how this whole thing turns out. I am excited."