JUCO linebacker will join the Buffs
With his cell phone running out of battery, Drew Lewis informed BuffStampede.com on Wednesday evening that he has decided where he will spend the next three years of his life.
"I can't talk because my phone is about to die, but I want to inform you that I am officially committing to the University of Colorado," Lewis, a 6-foot-2, 224-pound linebacker prospect from Coffeyville Community College said via a direct message on Twitter.
"I have a great affinity towards the [defensive coordinator and] linebackers coach at Colorado (Jim Leavitt)," he added. "I also felt like I had chemistry with the other players, and could really see myself fitting into the program."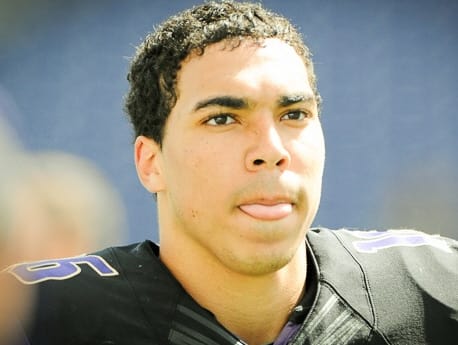 Lewis visited Utah State and Colorado earlier this month, and he was scheduled to check out Memphis this coming weekend, but he will no longer be taking that trip to the South. Lewis plans to sign with the Buffaloes next Wednesday, finish up the spring semester at Coffeyville Community College, then enroll at Colorado with three years of eligibility remaining.
One of the top 10 ranked prospects from the Evergreen State in 2014, Lewis opted to stay in-state and sign with Washington out of Eastlake High School. He was dismissed from the Huskies' program for undisclosed reasons last summer.
After missing the majority of the first six games of his redshirt freshman season at Coffeyville Community College last fall, Lewis quickly worked off the rust.
"In the very first game against Iowa Western, I broke the thumb on my right hand and that kept me out for five weeks," Lewis said during a recent interview with BuffStampede.com. "I was finally able to get a club put on and came back to play the next five games. I was able to finish pretty well."
Lewis averaged 12.2 tackles through Coffeyville's final five contests. He racked up 22 tackles and three sacks in one game against Dodge City on Oct. 31.
"To be honest, I was kind of skeptical as to how I would play after not playing for so long but to make plays like that in a big game against a good team, it helped me for the rest of the season," he said of his performance against Dodge City. "I definitely played with a chip on my shoulder the rest of the season."
Lewis was accompanied by his parents and younger brother during his official visit to Colorado last weekend.
"They all liked it just as much as I did. I thought it was cool," he said. "I didn't have any expectations, I just wanted to check it out. We toured the city, went up in the mountains and did all that. It was really neat.
"My older brother (Ryan Lewis, now an upperclassman defensive back at Pittsburgh) visited Colorado a few years ago but everything kind of got upgraded since then with the new facilities. ... Going back to the Pac-12 is very appealing to me. I feel like I have something to prove after being dismissed from Washington."