Five realistic candidates for the Colorado opening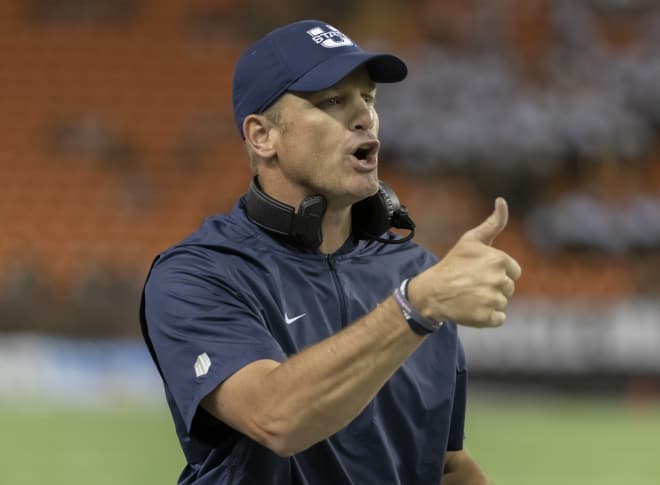 Colorado parted ways with head coach Mike MacIntyre on Sunday, ending a six-season run. MacIntyre's time at the school was highlighted by a 10-win season in 2016, but as it turned out, that would be the only winning season he would have in Boulder. With the job now open, here's a look at five potential candidates the school might consider for the job.
ERIC BIENIEMY - Offensive coordinator, Kansas City Chiefs
Bieniemy is a polarizing name among Colorado fans, mainly because of his status as a legendary player at the school. Some fans view bringing him back to lead the program as a slam dunk, but others remember his rough tenure as the school's offensive coordinator from 2011-12. But a lot has changed since then, with Bieniemy reviving his coaching career in the NFL under Andy Reid in Kansas City. After starting out as the team's running backs coach, he's since been elevated to offensive coordinator, where he has helped Patrick Mahomes develop into one of the NFL's best quarterbacks. Obviously, Reid gets a lot of credit as well, but Bieniemy is a young, energetic coach that would bring new life to the program and his time as a player for the Buffaloes as well as his ties to the NFL would surly resonate with recruits.
JIM LEAVITT - Defensive coordinator, Oregon
The Buffaloes has their most successful season of the MacIntyre era when Leavitt was the school's defensive coordinator in 2016 and suffered a noticeable drop off after he left for Oregon. Leavitt was a very successful coach at USF, building the program from the ground up and a one point reaching as high as No. 2 in the rankings. His time with the Bulls ended abruptly after he was found to have had a physical altercation with one of his players. Since then, Leavitt has rebuilt his image with stop in the NFL, Colorado and now Oregon. His familiarity how to recruit to Boulder combined with his knowledge of the Pac-12 could make him an ideal candidate for the job, if the school is willing to give him another shot at a head coaching opportunity.
SETH LITTRELL - Head coach, North Texas
Much like Wells, Littrell is a very hot name and if he doesn't land a Power Five job this year he surely will next year. The former Oklahoma running back has worked his way through the coaching ranks, spending three years in the Pac-12 working at Arizona and also making stops at Kansas, Texas Tech, Indiana and North Carolina. After a nine-win season in 2017, the Green Wave are also having a good year in 2018, which includes a win over SEC program Arkansas. Littrell's recruiting ties to Texas are an obvious draw and his high-powered offense would fit right in with the rest of the Pac-12.
JEFF TEDFORD, Head coach, Fresno State
Tedford has experience in the Pac-12 dating all the way back to 1998, when he helped develop eventual first round picks Akili Smith and Joey Harrington as the offensive coordinator at Oregon. His decade-long stint at Cal was also very successful, with players like Aaron Rodgers and Desean Jackson flourishing under his tutelage. After various stops at the NFL and CFL level, Tedford has spent the past two seasons as the head coach at Fresno State, where he turned the Bulldogs into a top-25 program, going 18-6 over the past two seasons. Tedford's recruiting ties in the Pac-12 footprint could be very helpful and his track record of improving teams is well-documented. The question is for Tedford, much like with Leavitt and Miles, is will the school go with an older more experienced coach or opt to go the younger route?
MATT WELLS - Head coach, Utah State
Wells is becoming a hot name in coaching circles after what he's been able to do at his alma mater after taking over for Gary Andersen following the 2012 season. Wells opened his head coaching tenure with the Aggies with nine and 10-win seasons in 2013 and 2014 and after a few down years he once again has the program in the hunt for a conference championship and major bowl appearance. It will be tough to lure him away from his alma mater, but with his exciting offensive style and surprising recruiting success with the Aggies, he would be a quality hire and likely draw rave reviews from a national media perspective.