{{ timeAgo('2020-10-17 14:33:07 -0500') }}
football
Edit
Dorrell: No noticeable separation yet regarding positional battles
On Saturday morning, the Buffs suited up and hit the grass at Folsom Field — a welcomed event undoubtedly for players and coaches alike — ultimately running a total of 103 plays, 72 of which were from scrimmage.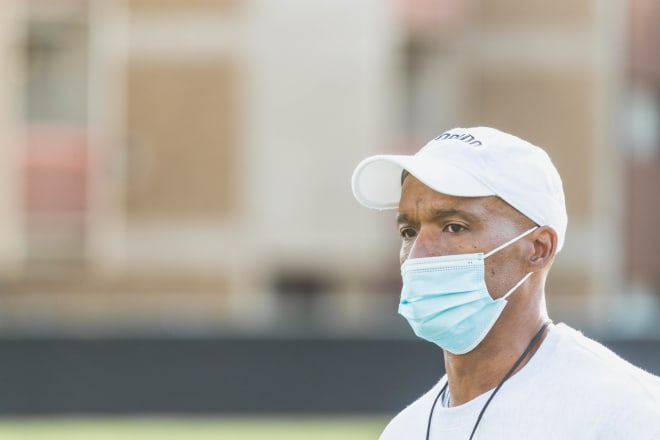 The Buffaloes rotated their first, second and third teams for both offense and defense and also got in extensive work on all special teams units.
Overall, it was a full day of work for Colorado and Karl Dorrell at face value liked what he saw.
"I am very pleased with where we're at after eight practices in what we were able to get done today," he said. "It was a really good snapshot in terms of how much (the players) know. Now, it's time to tighten things up, getting it honed in and getting our systems in high detail for us to be proficient in what we're doing. It was a very good day."
On Thursday, Dorrell indicated that on the note of execution, the Buffs were operating at what he labeled as about 75% efficiency.
On Saturday, it appears the Buffs took a step in the right direction regarding that.
"I felt that the operation on both sides went really well," Dorrell said. "The defense did a nice job shifting into formations and motionings, making the right adjustments and (there was) good communication, from what I saw. I would say the operation on offense was very efficient."
"I think there was one illegal procedure penalty, but it was on either or second or third team offense. Our first offense did a nice job procedurally, about operating and staying on schedule and executing. I was very pleased with how these guys came out and played — particularly our first two groups."
Dorrell said he looks forward to tomorrow, an off-day for Colorado, to cut the tape and rewatch all the action.When asked about his quarterbacks, Dorrell expressed satisfaction with all off the Buffs' signal callers — senior Sam Noyer, junior Tyler Lytle and true freshman Brendon Lewis.
"I thought both Tyler and Sam did some really good things," he said. "I thought Brendon came in and did some nice things, too. We'll have to go by the statisticians in terms of what were the throws and incompletions and so on and so forth, but I thought (Lytle and Noyer) showed positive signs of generating offense, moving the offense and I thought all three of the quarterbacks did a nice job with the operation of the offense. I was really, really pleased by that."
Join the conversation on Colorado's Saturday scrimmage at Buff Nation, the premiere message board community serving countless CU fanatics.
That said, at quarterback and in general, Dorrell personally has not seen any 'night and day' separation between candidates looking to win the starting job.
Per Dorrell, things across the board remain pretty tight between those currently practicing with the first team and the players listed on the second team.
"I haven't really seen that yet but I think the tape will tell us a lot more," Dorrell said after Saturday's scrimmage. "I did see some really good play. Our first and second teams are really, really close in terms of there's really not much of a drop-off in those areas. That's why I'd tell you that I didn't see anything that was just night and day different than the other. I do feel like it's going really well. The competition is fierce."
More from Karl Dorrell below:
1. On sophomore tailback Jarek Broussard, who missed all of last year with a knee injury:
"Jarek came in — Jarek's the one who came in and had a touchdown today. He's the one coming off a knee (injury), so he did some real positive things that I think are going to boost his confidence that he's ready to play ... We need that depth in the backfield and we're going to have a good rotation there. I felt like he stuck his feet in the ground and ran in terms of making cuts that you wouldn't do if you were questioning whether you were that healthy or not."
"Jarek did a really nice job today and it was good to see that his confidence is going to be huge from what he did."
2. On being back at Folsom Field for a practice and the excitement of doing so:
"It was fun. I love this stadium and I loved it for years when I was here (previously) coaching. When I walked out before practice, it was just such a fun feeling being in the stadium. The grass is in great shape — it was good to get our players in that environment and get a feel for what it's going to feel like when we play Nov. 7. It felt good. Both our offense and our defense were really excited about going out there and showcasing what they could do today."