Dizon primed for a big junior campaign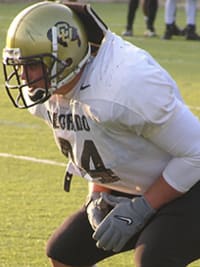 Enjoy 365 days of Colorado Buffaloes recruiting and team coverage on BuffStampede and Rivals.com. Sign up for a 7-day free-trial today and give the site a test drive!
There hasn't been a CU player that has had a better spring than
Jordon Dizon
. The junior linebacker led the team in tackles in each of the Buffs' first two spring scrimmages. The 6-foot-0, 220-pounder has also been a vocal leader out on the practice fields.
Dizon took time out to talk with BuffStampede.com:
Going into your junior year, do you find yourself taking on a little bit more of a leadership role?
Jordon Dizon: "You have to. Me being out there two years already, having the experience that I have, it's not only your duty, it's something you have to do for your other teammates. Some guys look up to the more experienced players so you have to be vocal out there."
Coming from Hawaii, how long did it take for you to adjust to the lifestyle and atmosphere in Boulder and at CU?
"It was really fast. When I came here my freshman year, we had a great group of linebackers. We had Akarika Dawn and everything just clicked. Akarika took care of me like his little brother and it made everything feel so comfortable. Especially having a coach from Hawaii (
Brian Cabral
), he knows what the transition is like and he helped me through."
Your freshman year you were named the Big 12 Newcomer of the Year. You followed that up with a solid sophomore season, but you didn't get the widespread acclaim. How would you assess your sophomore season?
"Very fundamental. My freshman year was what you would call 'Out of whack', that's what Coach Cabral called it. It was just me running out there like a chicken with its head cut off….just playing football. But while I was doing that, I hurt a lot of my teammates by not doing my thing. Last year, my statistics were down but that doesn't mean anything. I had better grades for the games, my output was a lot greater than it was my freshman year. So I think last year, even though my stats weren't up, was my greatest year so far."
How big of a relief was it when you found out that Coach Cabral was being retained?
"It relieved a whole lot of stress. Because when you have a new [position] coach, it's like you are putting yourself out there again. You start from square one. All that work you put in from the beginning is gone. All that vision that someone has of you is gone. So you have to rebuild that, you have to start from a foundation and build up for your reputation. So to have a guy that has been here and has worked with me is so much easier. It has made the transition from Coach Barnett to Coach Hawkins a lot easier."
How much does chemistry play into being a successful linebacking corp? The fact that you've played with Thaddaeus Washington for two years, how much does that help?
"Oh yeah, experience in football is the greatest thing you can ever have. To know what he is going to do, you can tell what mistakes he might make and you can cover for him. And he can tell what mistakes I might make. So the experience, having the chemistry with Thaddaeus and me and everyone else on the field, it is an awesome thing that no one can ever know what it is until they experience it."
How is Brad Jones doing so far, having to replace Brian Iwuh at outside linebacker?
"Iwuh is big shoes to fill but Brad Jones has the potential for everything. He's fast; he's one crazy dude out on the field. He hasn't had a lot of experience and like I said earlier, experience is everything, and once he gets just a little experience he could be equal or even greater than Iwuh."
Your backup at Will linebacker, Marcus Burton, have you taken him under your wings like Akarika Dawn did with you when you came to Boulder?
"Oh yeah, definitely. Marcus and I have gotten so close because he has always been there for me when I've done bad things. He's on the sideline, 'What are you doing?' and when he does something bad and I'm on the sideline, I go, 'What are you doing?' So it's a relationship that's awesome and helps make us both better football players."
Marcus Burton made a lot of plays with limited snaps last season, but the coaching staff said he was often out of position. Was he kind of in that same boat that you were in your freshman year?
"It was the exact same thing. The thing that killed him the most was the playbook…and my freshman year it was the exact same thing. When you don't know the playbook and you don't know what you're doing, you play so much faster. That's exactly what enabled him to get so many picks, so many tackles because he was just playing the game of football like he did when he was in pop warner. But in the long run, it hurts the team. He did good his freshman year."
Your weight fluctuated a lot your first year or so on campus but it seems like you have been maintaining your weight at around 220, 225-pounds since last fall. What have you done to keep your weight consistent?
"Eat a lot. My girlfriend has been cooking me great meals. My freshman year she wasn't here and I was in the dorm, I got down to 190. Now that she's here, we cook all the time so I'm staying at 220 all the time."
It seems like there is a big emphasis on trying to strip the ball from the offensive player this spring. Did you do that much in the past?
"We did it before, but it wasn't emphasized as much. With Coach Hawkins, everything is finish, finish, finish. And if you don't, there are consequences. Our whole deal on defense is to get at least three turnovers a day. So you do that by stripping the ball. Turnovers is a big emphasis this spring. If we don't get three in a day, we run. If we get three in a day, then the offense runs. So it's a big thing out here."
Have you set forth goals for your junior season or are you more or less just playing it by ear?
"I'm definitely playing it by ear. Some guys set goals; I think goals just blur your vision. You might go, 'I am going to get five interceptions this year', and then you line up in a passing situation and you are so worried about getting an interception that you lose focus."
Judging by the first two spring scrimmages, it looks like you are doing well in the new defense. How does it vary from the defense and assignments you had with the defensive scheme the last two years?
"It's apples and oranges. This defense is so complicated and so difficult, it takes forever to learn. It takes a lot more time to study. I guess the main difference is the way that it is coached. Before when you did something wrong it was, 'Okay, go to the next play'. Now, you do something wrong and you fix it. It's really interesting. It helps a lot when you go back and go over it."
I remember reading back when you were a freshman that you hunted wild boar growing up in Hawaii. How exactly did you do that?
"What you do is, you run into a mountain, you chase a boar, you let the dogs grab it and then you stab it. I never really got into it because I'm a big water person. I love fishing, I love diving. So I got into it, but only for a little bit."
Talk the about the atmosphere out here on the practice fields this spring…we just got done watching defensive linemen go against offensive linemen in a 7-on-7 competition.
"It is incredible, the change that has happened. When I came out here (practice fields) as a freshman you would see a lot of guys that didn't like it here, a lot of guys who came out here just to come out here, just to be a Buffalo. Now, with this coach, you see a lot of guys actually putting effort into what they do. It just makes the whole practice go a lot smoother because everyone is trying to do their best. Everything is clicking, everyone is involved. In the locker room, everyone is going, 'I wonder what we're going to do tomorrow?' Coach Hawkins keeps everyone on their toes and it makes everything so exciting."