Deion Sanders' Colorado staff taking shape with more additions Wednesday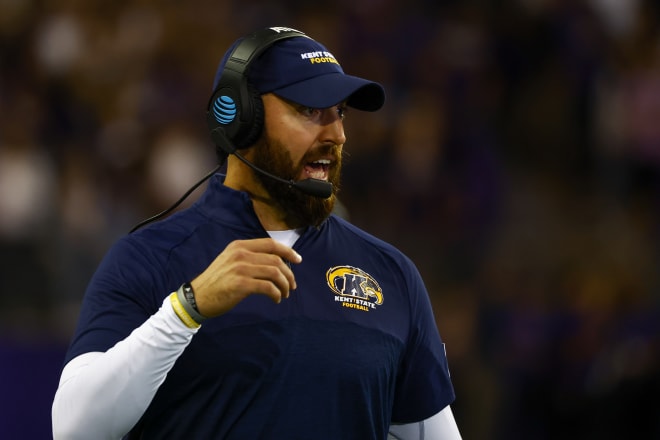 New Colorado coach Deion Sanders' staff is quickly coming together, with just three spots left to fill.
The latest news came Wednesday as Bill O'Boyle, who has been the offensive line coach at Kent State since 2018, announced in a tweet that he is making the move to Boulder to join new Buffs offensive coordinator Sean Lewis, who was the Kent State head coach.
O'Boyle has also coached the offensive line at South Dakota, Southern Illinois and was previously the head coach at Division II Chadron State from 2005-11 and the offensive coordinator at Division II Colorado Mesa in 2012.
Meanwhile, Brian Howell, of the Boulder Daily Camera, reported Wednesday that Colorado will hire Alabama associate defensive coordinator Charles Kelly as its DC.
Kelly has been at Alabama since 2019, also coaching the safeties while winning a national title in 2020, and was previously the defensive coordinator at Florida State from 2014-17 and the special teams/linebackers coach for the Seminoles in 2013 when they won the national championship.
He has a long coaching career going back to the early 1990s that also includes defensive coordinator stints at FCS Jacksonville State, Div. II Henderson State, FCS Nicholls State, he was on staff at Georgia Tech in a variety of roles from 2006-12 and coached the special teams and safeties at Tennessee in 2018.
To recap the earlier staff developments ...
ESPN's Pete Thamel reported Monday that Lewis, the Kent State head coach, was joining the Buffs as offensive coordinator.
Lewis is 24-31 over five seasons at Kent State, including 5-7 this year. The Golden Flashes' offense was not the problem this season, though -- they rank a solid 44th nationally out of 131 FBS teams in total offense at 417.2 yards per game.
More to the point, Kent State ranked No. 1 nationally in total offense in 2020 at 606.5 yards per game (albeit in only four games during the shortened pandemic season) and 5th last season at 493.4 yards per game -- led by the No. 3 rushing offense in the country at 248.79 yards per game.
On that prolific 2021 Kent State offense, three players rushed for at least 700 yards, including dual-threat QB Dustin Crum and lead back Marquez Cooper (1,205 yards and 11 TDs). Crum (703 rushing yards and 12 TDs on the ground) also passed for 3,206 yards, 20 touchdowns and 6 interceptions.
A mobile quarterback looks to be integral to Lewis' offense, as he had another one this year in Collin Schlee (2,109 passing yards, 489 rushing yards).
Prior to taking the Kent State job, Lewis spent two seasons as the co-offensive coordinator/QBs coach at Syracuse and held the same role at Bowling Green in 2015.
Another report from ESPN then came out later Monday night from Adam Rittenberg reporting that Tim Brewster, who currently serves as Sanders' tight ends coach at Jackson State, would be joining the Colorado staff.
(As for Rittenberg's reference to former Oregon and Florida State head coach Willie Taggart, recently fired as head coach at Florida Atlantic, also taking a position, Thamel later reported otherwise.)
Brewster also tweeted Monday encouraging "All my dudes in the portal and elite HS players" to play for Sanders. He is listed as the top assistant ahead of both coordinators on Jackson State's staff directory.
Derrick Hunter, a JUCO defensive tackle, also tagged Brewster in his tweet announcing his Colorado offer.
Meanwhile, in his address to Colorado's players Sunday, Sanders formally introduced two assistant coaches from his new staff in linebackers coach Andre' Hart and defensive backs coach Kevin Mathis, who were/are also on his staff at Jackson State.
Another name that had been linked to the Buffs looks to be in place as well.
Texas A&M offensive lineman PJ Williams -- a four-star prospect from the 2022 recruiting class who is now in the transfer portal -- tweeted out his new Colorado offer Monday, tagging Nick Williams, a defensive analyst with the Aggies last season expected to become Colorado's defensive line coach, in the post.
Before going to Texas A&M, Williams played outside linebacker for Georgia from 2008 to 2012 and later served as a graduate assistant on the defensive staff there.
Williams is regarded as a strong recruiter, even in the support staff role he had previously, while contributing to a 2022 Texas A&M recruiting class that finished No. 1 in the country.
That included several players from Georgia, where Williams has obvious connections, including four-star defensive backs Deyon (Smoke) Bouie and Marquis Groves-Killebrew. The Aggies also landed five-star defensive tackle Walter Nolen out of Tennessee and hold a commitment from 2023 five-star defensive end David Hicks Jr. out of Texas.
Williams no longer listed on Texas A&M's 2023 coaching staff.
As for the support staff, David Kelly -- the coordinator of player personnel at FAU under recently-fired head coach Willie Taggart -- was also present at Sanders meeting with the Colorado players Sunday. Rittenberg's tweet also named Ray Forsett as Sanders' chief of staff.
Sanders was asked by a player during his team meeting Sunday if he planned to keep any of the current assistant coaches and he made it clear that was not in his plans.
"It's going to be one of the best staffs you've ever seen assembled. They coming. The best recruiting staff you ever seen assembled. They coming," Sanders said.
Colorado's new coaching staff
| Coach | Position | Last school/team |
| --- | --- | --- |
| Deion Sanders | Head coach | Jackson State (HC) |
| Sean Lewis | Offensive coordinator | Kent State (HC) |
| Charles Kelly | Defensive coordinator/safeties | Alabama (Assoc. DC) |
| Bill O'Boyle | Offensive line | Kent State (OL) |
| Unknown | Wide receivers | |
| Unknown | Running backs | |
| Tim Brewster | Tight ends | Jackson State |
| Nick Williams | Defensive line | Texas A&M (Analyst) |
| Andre' Hart | Linebackers | Jackson State (LBs) |
| Kevin Mathis | Defensive backs | Jackson State (DBs) |
| Unknown | OLBs or Special teams | |