{{ timeAgo('2021-06-07 16:33:17 -0500') }}
football
Edit
CU's Class of 2022 grows to six with the addition of TE Zach Courtney
It was a busy weekend of recruiting for the Buffaloes, who welcomed in a solid handful of prospects for on-campus visits for the first time in over a year.
Post, Texas tight end Zach Courtney was one of the recruits in Boulder over the weekend and shortly after wrapping up his visit, he gave a verbal pledge to CU Monday afternoon, Colorado's first commitment of the summer.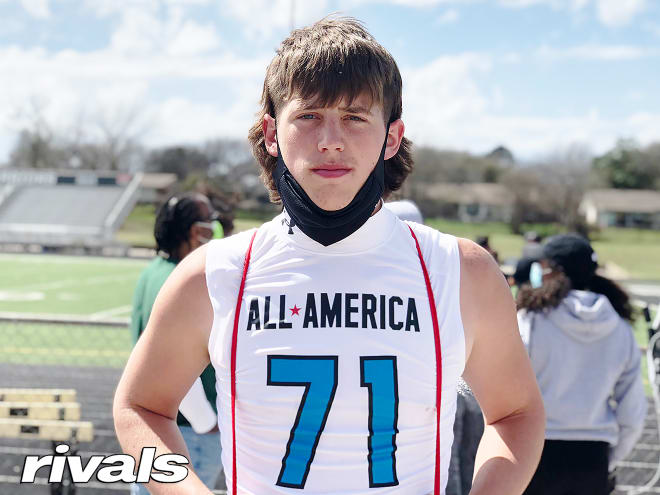 Courtney, a 6-foot-6, 235-pound prospect, was also being courted by Brigham Young, Texas State, Fresno State and a handful of other suitors.
His pledge represents the first that Bryan Cook has secured since Karl Dorrell promoted him to tight ends coach a few months ago.
Cook offered Courtney back in early March and the Buffs were only his second Division I offer.
In pulling the trigger so soon after finishing up his visit, Courtney indicated that a big part of his decision had to do with the culture Cook and Dorrell advertised to him, in particular about the Buffs being a tight-knit program.
"The scenery is amazing," he said. "The coaches are just super nice and it really sounds like they want to build a family instead of a bunch of meatheads."
Courtney travelled to Boulder with his parents, who were impressed with what Dorrell had to say.
"He was super great," Courtney said of Dorrell. "He made my parents super happy in that if I went there, they wouldn't be scared for me. He made it seem like I'd be safe (in Boulder) and that we'd be a family."
Freshman offensive lineman Austin Johnson served as Courtney's player-host when he was visiting and Johnson filled him in on the Buffs and what it's like as a student-athlete at Colorado.
"He was being really honest and everything he said sounded pretty good," Courtney said. "He seemed to be really chill."
Courtney said he liked the vision Cook and Dorrell laid out for him regarding how the Buffs plan to continue upping the role of the tight end on offense.
Currently at Post High School, Courtney is not used often as a wide receiver and for his junior year, he cited less than 10 passes he caught throughout the entirety of the season.
In other words, the relationship he built with Cook was buttressed by the prospects of being used in a more agreeable manner within Colorado's offensive scheme.
"It's been great," Courtney said of Cook. "He's super nice and he seems to care a lot about me and me going (to Colorado). I trust him in teaching me and helping me to get better at the next level."
"I think he'll use me way better than my school now. I think I had about nine receptions for 120 or 130 yards (last year)."
Courtney is the sixth Class of 2022 recruit to give CU a verbal commitment.
He joins safety Dylan Dixson, defensive end Carlton Madden Jr., quarterback Owen McCown, tailback Victor Venn and wide receiver Keyshon Mills.