{{ timeAgo('2020-03-17 16:41:38 -0500') }}
football
Edit
Coronavirus situation report via Colorado AD Rick George
Colorado athletic director Rick George conducted a conference call with CU beat writers on Tuesday afternoon, in which a broad array of topics pertinent to how the university, Pac-12 and NCAA are actively responding to the COVID-19 pandemic.
Below is a transcription of the many questions asked to George accompanied by his responses and additional notes where necessary.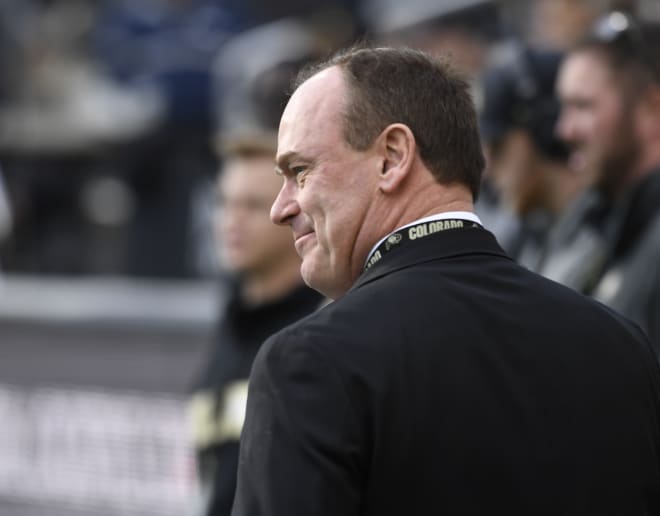 1. George's opening statement:"I think we all know that this is a very challenging environment that we're in today. I can tell you that the health and wellness of our student-athletes is our highest priority. We've been in constant communication with our student-athletes, their families and our coaches and staff. Things change in minutes and sometimes hours and days but we've got an incredible leadership team that's around me that helps inform our decision and what we're doing. From day one we've been in lockstep with our campus. It's important that athletics follows what our campus is going and communication has been excellent."
"I think when this first started, communication among all of our entities was a little challenging, because things had changed so quickly. But we're comfortable where we are right now, knowing things can change. We've got a good team and we're focused on what's best for our student-athletes, our staff and certainly our university."
2. The status of Colorado's on-campus athletic facilities and the status of their openness:"We've closed all of our workout areas in both the (CU) Events Center, and Dal Ward and in football we've consolidated all of our training rooms to the Champions Center. We are still serving out student-athletes like we normally do at our fueling station at the Crawford Club in the Champions Center."
*Editor's note: George was asked a follow-up question that directly inquired as to whether or not athletes can continue to work out on campus: the answer is no. Athletes cannot as of now utilize the university's workout facilities and gyms.*
3. Is there any idea as to how many of the student-athletes across the board decided to stay in Boulder? It changes daily. I have daily calls with my staff that we started last week through the weekend where we assess things and it's very fluid as you can imagine. We've sent out different communications to our student-athletes and their parents. As we know...we're down to a smaller number now. It'll get smaller tomorrow. I don't know exactly what that number is at the moment, but we just had a staff call with our leadership team two hours ago to get updates from all of our coaches. We know where everybody's at currently...but the particular number (of student-athletes remaining in Boulder dwindles) down every day and it gets smaller and smaller."
"We do know that there's some student-athletes, particular our international student-athletes, that are not going to be able to go home. We're going to make sure that we work with them to provide the best support we can moving forward."
ICYMI: The Pac-12 Conference's official statement regarding the cancellation of remaining 2019-20 sports seasons: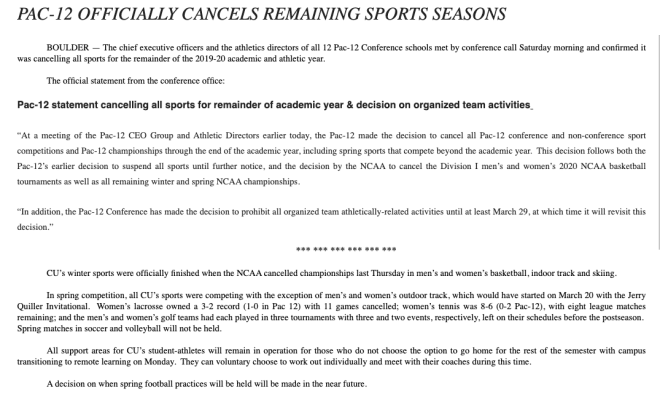 4. The status of spring ball. Could in theory it be pushed back to a later month? "What we're focused on right now is what we're doing on a day-to-day basis. What that'll mean for spring football (will be determined by) discussions we have at the conference level and at the national level with the NCAA. Those calls are ongoing and we're starting to have those calls, so we'll be able to inform you a little bit more on what that will look like. Is there a possibility that you could have spring practice in May or June? That's a possibility and we certainly would push for that, given a new staff and the preparedness for the upcoming year. But we'll have those discussions with the right people both at the conference level and national level."
*Editor's note: George says on the record here that he would push for a May/June period to conduct spring practices. As he alludes to, with the new coaching staff, the ability to have those practices is very important.*
5. Many student-athletes are traveling home. Has there been any news of a Colorado student-athlete coming down with COVID-19?" To my knowledge, not at this point. We have protocols that we've discussed not only with our student-athletes but our staff. If you have any symptoms, there's a certain protocol that they follow and we're doing everything that we can to keep our student-athletes and staff at a low risk."
7. Does CU have any sort of plan in place to care for university workers whose livelihoods are being impacted by the shutdown of facilities and events they work?"What we've done is that we're down to a pretty skeletal staff that's on site. Most of our staff has been working remotely since campus came out with their communication that we were going to learn remotely. We implemented that right away but we'll make sure that our student assistants that have been working for us and relying on that will continue to be paid for the things that they're doing. We're engaging our staff as often as we can."
8. Has George had an end-of-season conversation with Tad Boyle about the finish to the 2019-20 men's basketball season?"Tad and I spoke very briefly . But we didn't do a really deep dive into the end of the season and what that looked like. We will do that at the appropriate time but obviously, the things that transpired between the game on Wednesday night and where we are today, my focus has really been on the student-athletes and what we're doing operationally in our department to compliment what campus is doing."
9. What has the communication been with the Pac-12 in terms of the conference as an entity working to stay on the same page with respect to spring ball updates, campus closures, etc.?:"We're communicating daily. We have a conference call daily where we discuss what each of our campuses is doing. We talk about some broader issues, as well. We have those discussions daily. I serve on two NCAA committees, so I'm having a call every other day — I guess every day this week. But we'll continue as a conference to communicate daily and we'll do the same with our staff on campus."
Join the conversation on George's remarks at Buff Nation, the premiere message board community servicing countless CU fanatics.