Buffs close to cracking Top 40 of Rivals' Team Rankings for 2020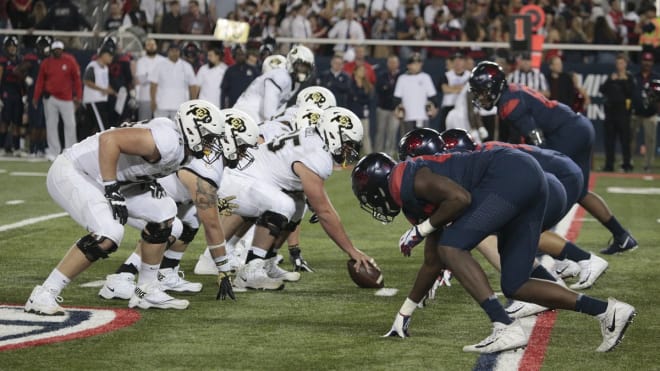 With Saturday's commitment of Alvin Williams, a three-star defensive end from Ellenwood, Georgia, the Colorado Buffaloes are now up to 12 commits in the Class of 2020, good for the 42nd (tied with West Virginia technically) best recruiting class in the nation, according to Rivals.
The Buffaloes at 42 sit right above Washington and directly below South Florida. Right now Colorado trails only Cal Berkeley (37th) and Oregon (10th) in terms of the Pac-12's highest rated Class of 2020 commit list.
The Buffs might be primed to continue climbing higher in the near future though, for a number of reasons.
There is speculation that CU is close to landing another three-star defensive end, this time in the form of Devin Grant of San Antonio, TX.
Grant's tweet below is good evidence that he'll commit soon, and if he picks CU over his 18 other offers, it'll certainly be a boost for the Class of 2020 on Rivals' Team Rankings.
Furthermore, Colorado has two commits right now that have yet to be evaluated by Rivals: DB Gavin Holmes and OL Gerad Lichtenhan. The former's height of 5-foot-11 has raised some concern for his viability as a cornerback, but Holmes' speed seems to more than make up for that. He recently was clocked with a 4.32 40-yard dash time. That seems enough evidence to guess that Holmes will land as a three-star recruit and that his height won't dock him too much.
And Lichtenhan is 6-foot-8 and some change, weighing 345 pounds. Colorado offensive line coach and run game coordinator Chris Kapilovic must be borderline giddy with excitement about getting to work with him and turn him into a college football player.
After all, you can't teach size and with Holmes, Tucker personally told him the same about his speed. Lichtenhan's film below (shoutout to the awesome CUSportsNation subscriber who originally posted the link to this) oozes with potential.
Kapilovic is just the guy who could mend Lichtenhan into a rock solid offensive lineman. A three-star rating for him as well also seems fair to anticipate.
All in all, the Buffs seem like they're in a good spot to break into Rivals' Top 40 Team Rankings for the Class of 2020, not even considering factors outside of the possibility of Grant's commitment and Holmes' plus Lichtenhan's impending Rivals evaluations.
Look for Colorado's standing on that list to keep going up.