2022 C Van Wells getting to know CU's coaches, planning visit to Boulder
While the Buffs recently put a bow on the December early signing period, welcoming in 20 Class of 2022 signees before all was said and done, there is doubtless more work ahead before the traditional February signing day.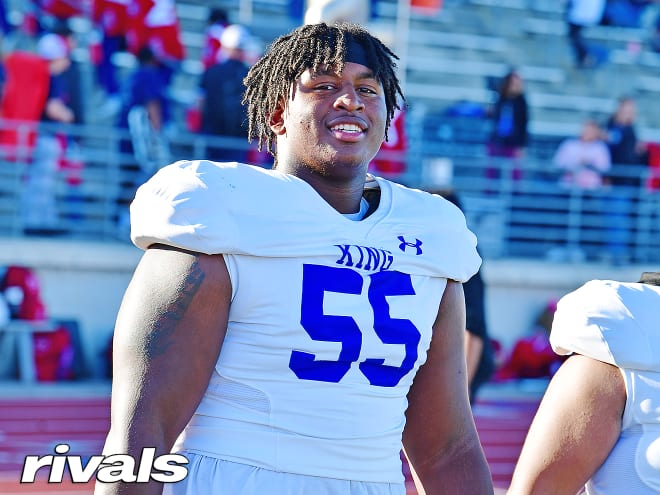 In all likelihood, CU's 2022 class will grow somewhat considerably by the time of mid-February, with Karl Dorrell and his staff keeping a close eye on available transfer portal talent to bring in.
That's not to say that Colorado won't be active on the preps front, though.
One such high school player who was recently on the receiving end of an offer from Colorado was Houston (C. E. King) Texas center Van Wells, which came on Dec. 16.
Wells, a former Louisiana-Lafayette verbal commit, put himself back on the market on Nov. 21.
In total, the 6-foot-2, 300-pounder reeled in nearly 20 offers. Since he backed off his verbal commitment to the Rajin' Cajuns, Louisiana Tech has joined the Buffs in offering.
"I feel like me de-committing, taking a look back and making sure I'm making the right decision has been good," he said. "Obviously, Colorado came in and offered, but I think it was a good decision for me to make. It's a lifetime decision, not just four years."
As Wells announced when he posted his CU offer on Twitter, it came from quality control coach Reggie Moore.
Moore, in his second year with the Buffs, has assumed a more visible role on the recruiting trail for Dorrell of late.
He was the coach to offer wide receiver Chase Sowell back in early December, where things progressed quickly from Sowell taking a visit to Boulder, to committing and then signing a letter of intent with the Buffs.
A native of Houston himself, Moore had spent about a decade in his home state of Texas coaching at both the high school and collegiate levels.
"He's from around here — he's from Texas — so we're similar in that way," Wells said. "But I've been talking to him and picking his mind a little bit..."It's been cool. (Colorado has been) getting a new coaching staff, so I'm getting to know them better, but everything's cool. I just like getting to know them."
Wells said he has penciled in an official visit at Colorado for the weekend of January 14.
When asked about the programs in touch with him the most at the moment, he listed Colorado, Louisiana Tech and Louisiana.
As he continues to navigate his recruitment, Wells is giving special attention to the kind of competition he'd be going up against at wherever he decides to take his talents.
Colorado offering him a chance to sharpen his iron in a Power Five, Pac-12 environment is an appealing possibility, as far as he's concerned.
"I know that you can get to the NFL from anywhere basically, but I also want to go up against the highest competition I can," he said. "I want to play against who other people may think are the best."