Florida athlete high on Colorado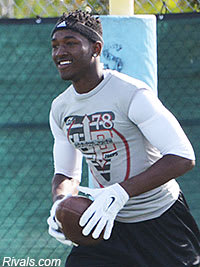 As expected,
Jim Leavitt
spent a lot of time recruiting in the Tampa area during the spring evaluation period. One of the prospects the Buffaloes' new defensive coordinator and linebackers coach has made a strong impression on is
Terence Williams
, a highly sought after three-star athlete prospect from Riverview (Fla.) Spoto.
"The school I am the most interested in right now is Colorado. They are showing a lot of love right now, and they are looking real good out there with all of their new facilities," said the 6-foot-1, 186-pound Williams. "I also like Florida State, UCF and North Carolina."
The Seminoles have yet to offer, but the other colleges Williams mentioned have. In total, he claims "about 30" offers, including other offers from Duke, Louisville, NC State, Rutgers, South Florida and Wake Forest.
Williams plans to take an unofficial visit to Colorado sometime in late June. He is anxious to see what the Buffaloes have to offer.
"I can't wait to see what Colorado is like, see the environment. I want to see if it is a place I'd want to live for the next four years," he said. "I also can't wait to see all the new facilities they built. The way Coach Leavitt described them, they sound awesome."
Williams said the Buffaloes have expressed interest in his skills on both sides of the ball, but he expects to end up playing as a defensive back, either cornerback or safety, at the next level.
"I have good speed, strength and physicality as a defensive back," he said. "I am a good open field tackler as well. Coach Leavitt said I am just a playmaker. He wants to get to work with me because he said I have the talent to make it to the league (NFL)."
Williams is also a dynamic returner, and could be in the mix for punt and kick return duties when he gets to college.
At the annual Unsigned Preps Showcase in Tampa this winter, Williams was ranked as the top performer at the event by Rivals.com recruiting analyst Woody Wommack.
"Willaims put on a show during one-on-ones, using his speed to blow by defenders in the open field," Wommack wrote. "On one rep he spun around a defender so bad the defender looked lost as Williams blew by him for an open touchdown."
Don't expect an early commitment from Williams. He currently plans to wait until signing day to announce his decision.
"I just want to take my time so I don't have any regrets," he said.
[rl]