California linebacker joins Buffs commitment list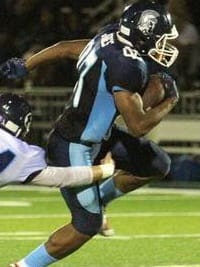 "I really sat down and thought about it long and hard. I decided with the colleges that are interested in me and the colleges that have offered me, I just had a gut feeling that Colorado was the best place for me the whole time," Jones said. "I believe it was the right decision. I don't doubt it for a second.
"I am never going to second guess myself. Before I make a decision, I always make sure it is right for me. Colorado is right for me. It just felt right, everything about it felt right. Their coaching staff is amazing, the school is amazing. I could just envision myself there already."
Jones also had offers from San Diego State, Utah State, Wyoming and UNLV. He was drawing increased interest from Texas and Oregon State. Was there a specific moment when it clicked and Jones knew he was going to commit to the Buffs?
"After I toured CU's whole campus and I was sitting down with the [defensive coordinator and] linebackers coach, we were just clicking. I love Coach [Jim] Leavitt," he answered. "I feel like he is a great coach, a great mentor. He is not just there to coach you and get you better on the field, although that is a big part of it. He is also a father figure, someone you can always come to and talk to.
"The rest of the coaching staff is amazing, too. [Offensive line] coach [Gary] Bernardi is a great guy. My dad loves him, they got along so well. Coach [Mike] MacIntyre, the head coach, he is doing what is best for the team and he believes that I would make an big impact in their program. I trust in him, I believe in him. He said that I am a big piece of their rebuilding efforts out there. I just can't wait to get out there."
When Jones committed, the reaction from the Buffaloes' staff was exactly what he was hoping for. He could hear Colorado's coaches screaming and could feel them "jumping for joy."
"They were so excited," Jones said. "There was no other [coaching staff] like them. They were constantly checking up on me, making sure I am doing well. Whenever I reached out to them, they always answered or got back to me very quickly."
Jones spends time playing running back, linebacker and defensive end for Valley Christian. It was his head-turning performance at Colorado's satellite camp at Contra Costa College in early June that prompted the Buffaloes to offer him.
"Coach Leavitt said he could see me playing inside linebacker. I believe in his judgment," Jones said. "It doesn't really matter what position I play as long as I am contributing to the team. That is what I care about."

[rl]