Breaking down the Hawaii Rainbow Warriors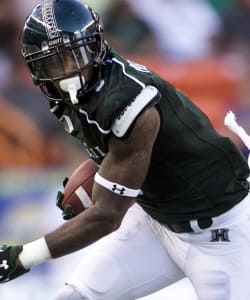 Each week during the football season, we interview a beat writer that covers CU's upcoming opponent. Honolulu Star-Advertiser sports columnist Dave Reardon breaks down the Hawaii Rainbow Warriors ...
There has been a lot of change since Colorado faced off against Hawaii last September. Does it seem like new offensive coordinator Don Bailey and new defensive coordinator Tom Mason have had enough time to fully implement their system, or could this be a work in progress early on this season?
Dave Reardon: "I think it is always a work in progress but they seem to have made some pretty good progress. I think they had a good spring, especially on offense. The quarterback and receivers are clicking pretty well."
Obviously Norm Chow is feeling some heat out there and you look at the Rainbow Warriors' schedule to begin the season - Colorado, at Ohio State, UC Davis, at Wisconsin - from the outside looking in, that doesn't look too promising for Chow... why did they schedule such a brutal non-conference slate?
"We had an athletic director (Ben Jay - resigned last December) who was from Ohio State and that Wisconsin game was already set up. Part of it was because he was from Ohio State and also because the money situation, because finances are so difficult here for the entire athletic program that they feel like they can make some money by playing some of the so-called body bag games.
"Two games on the [Mainland] in a few weeks there, that is kind of asking a lot. And also they have Boise State right after that Wisconsin game, on the road, too. It is quite the gauntlet and it is also why quite a few people are saying this game against Colorado to open the season is a very key game. If they don't win this one they could be looking down the barrel of a 1-4 start."
The fact that Chow brought in new coordinators, was that a result of him feeling pressure there?
"Yeah, there has been an extreme amount of turnover on his coaching staff, actually throughout his entire four-year tenure. There is no one who has been with him the entire way. That is pretty rare to see. There is one guy, Keith Uperesa, who has been with him the whole time but he is not technically a coach. He is an admin guy now (Director of Football Administration) but he did start out as a coach. That being said, I like this coaching staff now.
"Even though they had 50 percent turnover from last year, and even though you have new offensive and defensive coordinators, as well as a new special teams coordinator, I like the blend of experience and youth, especially a young coach in Abe Eliminian, who is the defensive backs coach and Lance Samuseva, who is the defensive line coach. These are both guys who played for the University of Hawaii back in the 2000 decade when they were doing very well. I think it is very important to have guys like that who actually know the feeling of running out of that tunnel in that uniform for these players to relate to.
"Also, there are a couple holdovers in [Outside linebackers coach] Kurt Gouveia and your former Colorado Buffs star Chris Naeole [who is still the offensive line coach]. These are guys who had successful NFL careers and I think it is also good having them because that is going to help with recruiting and also you have guys that got to and succeeded at the level where these college players want to get to themselves some day. So I really like this mix on the staff at this point. But we won't really know how good their chemistry is until they get in the heat of battle, same as it is with the team. They can look great in practice but we don't know until the bright lights go on."
Talking with USC writers about quarterback Max Wittek, they talk about his impressive arm talent and his gunslinger mentality. What has been your impression of him since he transferred into the program, and leading up to the season opener?
"He has got all the measurables, but it also looks like he has some good intangibles as far as leadership and the ability to get along with his teammates and be liked by his teammates. He was voted a captain by his teammates without having played a down for this team. I think the fact that he couldn't play last year, that he had to sit out that year as a transfer, kind of humbled him a little bit. He came up from the scout team and did all the things he needed to do to integrate himself not just with the coaching staff but also with his teammates and I would say also with community members he has come across, too, here."
The Rainbow Warriors have a solid receiving duo in Marcus Kemp and Quinton Pedroza, both big receivers, and BYU transfer Dylan Collie joins the mix. I'm guessing this is going to be a pass-happy offense this fall?
"Well, it could be but it is one of those offenses, like every offensive coordinator will tell you, they'll take what the defense gives. So if the Buffs should happen to sit back too far, they will run the ball or do some things to stretch them that way too. It is not just a vertical stretch, but also a horizontal stretch type of offense."
What type of experience and talent do the Rainbow Warriors have on the offensive line and at running back?
"I am still not convinced that they have a great offensive line yet, but their best player and most established player is left tackle
Ben Clarke
. He is a very well respected guy. Although the team hasn't been good over the last three years, he has been a stalwart player and steady as a rock. As far as running back goes, Diocemy Saint Juste from Florida, is a speedster. But I like to call him a Mercedes because he is flashy and speedy but he is in the shop too much. He has a hamstring injury again and probably won't be playing on Thursday. So we are going to see some of the backup guys. There is also a big back named
Melvin Davis
, who recently came on campus. He has a very interesting personal story. He was accused of a very serious crime, murder, but it was found that he was falsely accused of that. There are a lot of people that think he can do a good job as a power back."
What are Hawaii's expected strengths and weaknesses on the defensive side of the ball? And who are their top playmakers on that side of the ball?
"They are expecting a lot from the back seven, because they have got some experience and some young talent in the secondary.
Ne'Quan Phillips
is a guy that people know his name but they are so deep there, he might be the nickel back. And then they are very deep at linebacker with guys who have played. Sometimes when you have to deal with injuries, you get a benefit from it the next year because when those guys come back from the injuries, you end up having a plethora of experienced guys that you can throw in there in waves.
Kennedy Tulimasealii
, he may be the most talented guy they have on defense but as far as other defensive linemen, they are a little short on experience up front. They do have several waves of guys that they might have to use, but they are young and sometimes with young defensive linemen, they are rangy and they have some quickness but they haven't built up that bulk yet that they need to withstand the punishment from some power five conference offensive linemen."
Obviously you are around the team a lot. Do you have a sense for how Hawaii's coaches and players perceive Colorado leading up to this game?
"This is a program that doesn't take any team lightly, they can't afford to considering that they haven't had a winning season since 2010. They are basically trying to do everything they can to restore the pride to a program that made it to the Sugar Bowl after an undefeated regular season not too long ago in 2007. Unfortunately it has been a steady decline since then and they haven't been to a bowl game since 2010. They haven't won one since 2006. The fan base has kind of been eroding a little bit and that is another reason why this Colorado game is so important. They want to get off to a good start here at home and try to get some of the fans back. The fact the game is on a Thursday night is not really a good thing for the gate, and it is on TV, so a lot of people are just going to stay home and maybe watch it there. Although there is always going to be excitement with a new season, there is still a lot of doubt, and rightfully so."
So it sounds like you don't expect there to be a rocking atmosphere on Thursday night at Aloha Stadium?
"Well, it won't be like the normal Saturday afternoon games, like maybe the last time when the Buffs were out here. That was a pretty feisty crowd, I think it helped Hawaii win that game."
Lastly, how do you see Thursday night's game shaking out?
"I actually think it will be a pretty close game, but I see Colorado winning. Part of it is because Hawaii's special teams are very inexperienced. I know Colorado had a rough time last year, but I think the passing combination is going to be very tough to stop. They played against a lot of good receivers last year but [Nelson] Spruce would probably be the best one. I would expect nothing but improvement from him and the quarterback Sefo Liufau. I don't know if Hawaii is going to be able to get enough pressure on him to really make it difficult for Colorado to do what it wants to do on offense. It could be a high scoring game, and usually it comes down to turnovers. But I see the potential of the kicking game coming into play here. As far as Hawaii, when they lost the special teams coordinator from last year, they lost a good one. Nothing against Jake Cookus, the new one, but he does have big shoes to fill. The last thing I would say, I think if this game was played 10 times, my semi-educated guess is Colorado would win it six times and Hawaii would win it four times."
Click
Here
to view this Link.
[rl]